| | | |
| --- | --- | --- |
| Norman Mickey B.A. | | Michael Mayer Ph.D. |
"There's a lot of deception, misleading claims in the industry...There's clearly (inappropriate) sales pressure in most of the dating organizations that I'm aware of, and the person is in an emotional state and is susceptible to that pressure. And because some singles feel reluctant to complain because they've been taken (advantage of) about admitting that they're single and perhaps lonely, they don't often complain to the right agencies. There's a lot of rip-offs in the industry and it needs to be corrected. We're trying to do something about that at Video Introductions..."
- Norman Mickey
Ronn Owens Program, KGO Radio
June 1985

"The lack of being loved or having someone to love is probably the most emotionally damaging thing that one suffers, and I think it is most intensified in older people."
- Norman Mickey
- San Jose Mercury News
February 1990

"Dating services aren't regulated in most states. If you're thinking about joining one ask the following questions and don't surrender your money until you get answers."
"Rules for Video Love"
- condensed from 'Things to Look For in a Singles Dating Service' by Norman Mickey, Director, Video Introductions"
-Betsy Von Wagner,
Men's Fitness Magazine
July 1990
The Nineties
Together dating service offers a settlement in 1995 in a lawsuit resulting from more than 100 complaints received by the Contra Costa County District Attorney's office for misleading customers and refusing refunds. Association of Ethical Matchmakers commences litigation in 1996 against Together for fraud and other unfair business practices, and is a plaintiff in a state of Washington litigation that the Together chain and its knowing participants constituted a racketeering enterprise.
Video Introductions expands internationally with members in the Philippines and in Russian countries.
Video Introductions web site is developed. Exclusive partner compatibility assessment software is developed.
Norman Mickey submits an original, innovative concept and proposal to President Clinton's task force on welfare reform, to help single welfare recipients get off public assistance through dating and marital assistance services.
American Association for Single People is founded in 1999 by attorney Tom Coleman to give single people the same rights as married persons.
"King of Hearts"
"Social Worker Norman Mickey has seen the ugly effects poor marriages can have on parents and children, so he's trying to stop the marriages before they happen. 'I wanted to do something more socially redeeming...I turned to social work because that's where I felt I was doing the most work for people...Many people marry for all the wrong reasons... We shed some light on that and help them make better decisions the next time around' ...His contribution to marital bliss is Video Introductions, a comprehensive dating service that helps singles avoid the frogs and get straight to the princes."
- Dave Thom
Daily Ledger/Post Dispatch
October 1992

"Forget nuclear disarmament and Yakov Smirnoff. The end of the cold war brought about something much more momentous, according to the Russian Connection brochure... the availability of numerous desirable Russian women with an amazing attraction to American men. The Concord based dating service, part of Video Introductions, provide men (and women) with opportunities to meet (Russian women and men)."
- Andrew Gordon
Concord Transcript
February 1997

"Norman Mickey, owner of Video Introductions in Concord, started his service after years with the Contra Costa County welfare office. His experience there gave him the moral motivation for founding the business. 'I saw the results of all the bad marriages and hardship on children that came about because they didn't have a lot of guidance in making their decision about the right person for them initially' he said - he also offers a conditional membership for those of lesser means. Payment is made only upon marriage."
- David Scholz
Argus Newspapers
February 1999

The New Millennium
- Will we face up to the devastating effects of unmet relationship needs?
"Domestic violence is the No. 1 health risk for women between the ages of 15 and 44 Clinton said. Almost one third of the women killed in the United States are victims of husbands, ex-husbands or boyfriends."
- President Bill Clinton
October 2000

Almost a very real casualty of an emotionally demeaning marriage ending in divorce, a very wonderful, caring and giving young man attempts suicide, not knowing where else to turn.
He subsequently joins Video Introductions and develops hope and a different relationship approach through use of Video Introductions program, including active participation in the free singles support group led by Norman Mickey. As a result, his self esteem and dating and relationship skills are enhanced. He realizes the rewards of his venture on Valentine's day with a new outlook on life and a level headed, attractive bride met through Video Introductions.
- A Marriage That Almost Wasn't
February 14, 2000

"I was scared to death of failing at male-female relationships"
- Edmund Kemper
Northern California females serial killer,
- an interview shown on Court TV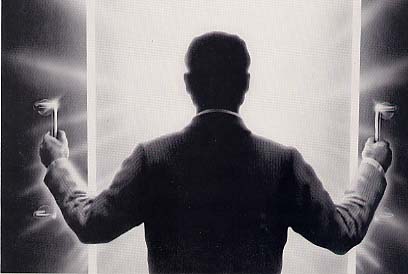 The New Millennium and Beyond...
The Bush administration seeks Congressional funding for marital assistance services for single welfare recipients.
A candidate for California Governor runs on a singles platform in 2003 and a Video Introductions member is also a candidate.
Full-length, good quality video interviews are available on Video Introductions website.
Together dating emerges from bankruptcy as The Right One/Together Dating and is back to the same old high pressure sales tactics, false promises, consumer complaints, high priced memberships and is rewarded with millions of dollars in fast paced annual revenue growth.
"Mickey says his company's greatest asset is that it allows customers to 'look before you buy'. Potential customers can look through the company's photo albums as well as a few videos before they decide whether or not to join... Mickey throws in a 'reality check' as part of his service: 'We make people realize that not everyone is a 9 or a 10 and not everyone can have a 9 or 10'. Formerly a social worker...he emphasizes personal growth... 'We have a whole industry about marriage counseling...I coined the term 'singles counseling'."
- Alina Larson
The Montclarion
October 2000

"Norm Mickey, a former social worker, is scrupulously honest in facilitating introductions and operates his business with the highest of integrity. If you are serious about finding a partner, consider Video Introductions."
- Open Exchange
Jan./Feb. 2001

"Norman Mickey of Video Introductions in Concord says people feel ashamed to ask for dating help, even though finding a mate may be the most important thing we do in life. 'America is all about independence' he says. 'We think we should be self-sufficient in every way. If we admit any deficiency in accomplishing anything, it makes us feel less self-esteem, less valued by our peers.'...let's face it, some people will do almost anything to avoid rejection, even if it means spending their lives alone."
- James O'Brien
Diablo Magazine
February 2002
"A relationship balance is looking at who you are vs. what you want in a partner. So many people fail to realize that what they have to offer is not what they're asking for in return and this is called a discrepancy (relationship disparity), and that's one of the measurements of the partner compatibility test...we try to bring a scientific measurement into the whole process... relationships are so often emotional - one side of the brain dictates so much of our decision - and we fail to consider a rational counterbalance."
- Norman Mickey
"The Edge -KNEW Radio"

September 2003
During the First Decade of the New Millennium
Deceptive, harmful and illegal practices continue to surface in the dating industry
A class action lawsuit is filed against True.com dating site for automatically renewing subscribers' memberships without their permission and sending e-mails to former subscribers saying that current subscribers (alleged to be fraudulent or non existent) are interested in contacting them, in order to trick them into renewing their subscription.
Yahoo! Personals admits no guilt but settles a class action lawsuit for using fake profiles of members on its site and reimburses 2004-2007 users a monetary award.
Kansas Attorney General wins a settlement against Great Expectations in which they admit misrepresenting the number of members, falsely promising dates with certain kinds of people and falsely claiming they did background checks on members. Arizona Attorney General files a suit against Great Expectations for coercive sales practices and deceptive practices. Pennsylvania Attorney General files a civil lawsuit against Great Expectations for falsely inflating the number of singles available for dating in its network, misrepresenting the success rate, the costs and other key elements of its dating services, and its membership in the Better Business Bureau. Several California Great Expectations' offices are sued for contract violations of not honoring 3 day cancellation requests, billing members for a longer period than California law allows, misrepresenting the size and composition of the membership, and misrepresenting and manipulating the cost of membership.
Under mounting criticism and numerous complaints, eHarmony finally discloses some controversial reasons for the mysterious and questionable rejection of certain relationship applicants.
A class action lawsuit is filed against True.com alleging (among other deceptive practices) that although True.com advertises that subscribers can sign up free and contact members free, there is actually a fee involved to communicate with members. It also alleges that True.com charges and collects money from former subscribers after they cancel the service including false and misleading messages sent to its former subscribers after they have cancelled their accounts, conveying the message that other True.com subscribers (alleged to be fraudulent and/or non existent) are interested in contacting the former subscriber. If the former subscriber opens the e-mail message, he/she is automatically reactivated as a subscriber and charged a fee without their knowledge or consent. Further allegations include True.com's refusal to accept cancellation requests.
- Some of the allegations in Wong vs. True Beginnings dba True.com
June 2007

"Severely depressed (one of the previously undisclosed reasons for rejection by eHarmony). A personalized, individual assessment should be made by a licensed professional to make this diagnosis correctly. Shame on eHarmony for their cursory, flawed assessments! Most people experience depression at some point in their lives. Many wonderful persons who enrich other persons' lives have bouts of depression...if eHarmony is truly in the business of helping singles (who already have a higher incidence of suicide than marrieds) shouldn't they find a better way to communicate with vulnerable, sensitive people who are simply trying to reach out?...Are there other criteria for rejection that eHarmony isn't telling us about?"
- Norman Mickey
"Internet Dating & Hidden Agendas"
- Open Exchange Magazine
July-Sept. 2007

"Attorney General Terry Goddard (of Arizona)... accused Great Expectations, of coercive sales practices and deceptive practices. The Attorney General's office alleged that Great Expectations:
- Misrepresented to consumers the overall number of participating members and members in certain age groups.
- Told consumers that two to three marriages occurred among members every month when it had no credible basis for such statements.
- Misrepresented to consumers that it had conducted a criminal background check on all of its members.
- Used high-pressure sales tactics.
- Showed potential new members written profiles and photographs of people they were not available for dating."
-The Arizona Republic
June 2008
In 2008 Video Introductions gave members the ability to morph their photo with other members to see what a future child might look like with another member (Baby Creations), and also to see their own age advanced photo (Age Progression), plus accompanying information and advice to enable members to consider, discuss and better understand important relationship issues related to attraction, having children and aging.. A display of this process is shown on the website which also serves to draw attention to the more important purpose of Baby Creations and Age Progression - a means we use to dramatically illustrate and communicate the serious issues to consider surrounding having children and aging.






* Face morphing technology that can show what your future child might look like.

* Age Progression to show what you might look like in the future.

Click Here for More Information

"Video Introductions is known for its ethical business practices and its humane, personalized, innovative services… never having a formal complaint about dating practices since Video Introductions was founded."
- Reuters

Aug. 2008
Better Business Bureau
Honor Roll
member


Video Introductions
---

All portions of this website are Copyright © 1977-2017 Norman Mickey. All Rights Reserved.
Elements, graphics, content, textual representations, video, and audio may NOT be reproduced, borrowed, or linked without the expressed written permission of Norman Mickey and Video Introductions.